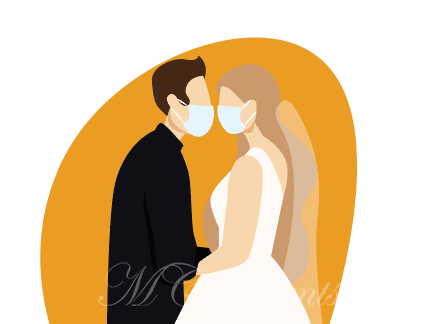 Corona virus: postpone, cancel or keep your celebration
During the current COVID-19 health crisis and quarantine, should you keep your wedding date or postpone it?
Due to the coronavirus pandemic, the French wedding season is heavily impacted and in these times of uncertainty, many brides and grooms are left with a lot of unresolved questions. Should they reschedule their wedding and what are the alternative options to consider?
As a first step, for all weddings scheduled after May 11th, I strongly advise you to wait for the next two weeks when the new coronavirus containment measures will be unveiled to the public by the French government.
How do I know if I should postpone, cancel or keep my wedding date?
It is crucial to ask yourself the right questions:
Since the most important thing is to stay healthy and protect your loved ones, wouldn't it be better to postpone the wedding for a few months or even a year? Will your guests be able to attend with all the border restrictions in place? Given the current situation, will your guests risk attending the wedding since they will fear for their safety?
How can I postpone my wedding?
First and foremost, you must contact your vendors to try to find availability for future dates and of course this will require flexibility from both parties.
If you want to postpone your wedding, you will have a better chance to find available vendors and venues during the winter or fall months, but if you prefer to tie the knot during the summer, you should choose a weekday.
No matter what day or season you choose, you can always make your wedding ceremony an unforgettable moment. If you consider a country house wedding during the winter season, don't forget about gathering all the necessary elements that may not have been needed in the summertime. This sometimes requires additional expenses and readjustments. our content goes here.
Your wedding takes place after May 11th and you want to postpone it.
Containment measures to stem the development of coronavirus and the closing of borders in many countries to prevent more infections have a major impact on contracts. If your wedding was planned during the quarantine period or during the ban on gatherings of more than 100 people, this is a case of force majeure, but the situation is different if the containment measures are lifted.
Hence the importance of waiting for the new containment measures taken by the French government to make a final decision concerning your wedding date. If quarantine measures are implemented, read your vendors' contracts and see if they allow you to postpone the wedding at no cost. Even if they are struggling with the impact of the coronavirus health crisis, vendors may be willing to work with you. You will also have to consider the work vendors have invested in the wedding preparations, hence the need to be accommodating in this unprecedented situation.
You want to keep your wedding date because it has sentimental value and special meaning for you.
If your heart is set on a specific wedding date and the containment measures are lifted, you have the option of first having a small wedding at the town hall with a limited number of guests and postponing your wedding ceremony until later, when the threat of the coronavirus is over.
This way, you will have kept this uniquely important date while celebrating your wedding with the love of your life. Proceeding this way will give you the advantage of a less stressful wedding day that won't turn into a marathon and it will also give you the possibility of wearing 2 different dresses!
In the meantime, stay safe, take care of your families
Your wedding planner: MC Events Planner, Toulouse and Carcassonne area in the South of France